Daily Service via Dashwood, Exeter, Huron Park, Centralia & Lucan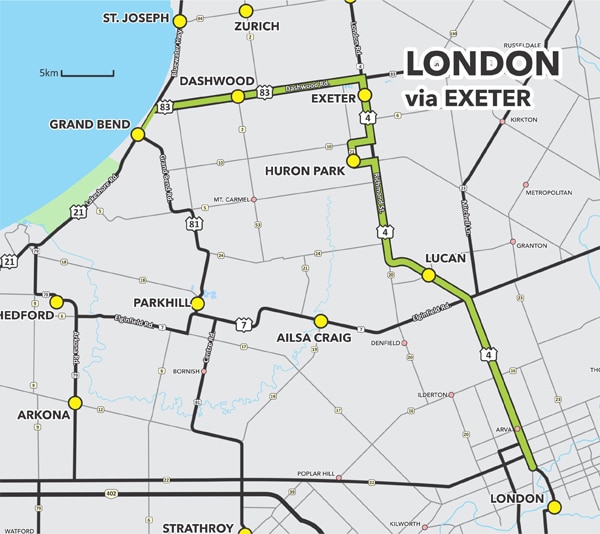 Daily service between Grand Bend and London daily and year-round, including statutory holidays, except for Christmas Day, New Year's Day and Good Friday. The approximate travel time is 1 hour and 20 minutes.
The bus runs every day, Monday to Sunday, from Grand Bend to London. There are two bus trips or runs daily. Download the 2023 brochure – all routes and maps – modified for print out on a home printer (PDF).
The Summer Bus is Back for July & August 2023!
The Summer Bus runs direct, non-stop trips from London (London Transit stop #705) to Sobeys Plaza, Grand Bend, every Saturday and Sunday in July and August starting July 1. Four return trips between 9:30 am and 9:30 pm. Be at the bus stop 5+ minutes prior to pick-up time with exact cash fare (drivers cannot make change) or Smart Card. Download printable Summer Bus 2023 schedule(PDF).
Summer Bus 2023 Schedule
Note: Summer bus does not provide any wheelchair spots and cannot transport bikes.
MORNING + EARLY AFTERNOON (run 9:30 am to 2 pm)
Leave London at 9:30 am; arrive Grand Bend at 10:30 am
Leave Grand Bend at 10:40 am; arrive London at 11:40 am
Leave London at 11:50 am; arrive Grand Bend at 12:50 pm
Leave Grand Bend at 1 pm; arrive London at 2 pm
EVENING TRIPS (run 5 pm to 9:30 pm)
Leave London at 5 pm; arrive Grand Bend at 6 pm
Leave Grand Bend at 6:10 pm; arrive London at 7:10 pm
Leave London at 7:20 pm; arrive Grand Bend at 8:20 pm
Leave Grand Bend at 8:30 pm; arrive London at 9:30 pm
Schedule 1: Travelling to London, bus stops and departure times
| Bus Stop Number | Bus Stop Location | Trip 1 | Trip 2 |
| --- | --- | --- | --- |
| 2000 | Sobeys Plaza, Grand Bend | 9:10 AM | 5:15 PM |
| 2100 | Main St. E. & Ontario St. N., Grand Bend | 9:12 AM | 5:17 PM |
| 2200 | Dashwood Rd. (west of) Centre St., Dashwood | 9:21 AM | 5:26 PM |
| 2240 | McDonald's parking lot (NW corner), Exeter | 9:31 AM | 5:36 PM |
| 2400 | Main St. S. & Sanders St. W., Exeter | 9:35 AM | 5:40 PM |
| 2500 | Main St. S. & Huron St. W., Exeter | 9:37 AM | 5:42 PM |
| 2600 | Stephen Township Arena, Huron Park | 9:44 AM | 5:49 PM |
| 1250 | 148 Melbourne St. (at playground), Centralia | 9:47 AM | 5:52 PM |
| 2700 | Main St. @ Lucan Community Centre, Lucan | 9:56 AM | 6:01 PM |
| 2800 | Fanshawe Pk. Rd. E., (London Transit stop #705), London | 10:16 AM | 6:21 PM |
| 1817 | University Hospital SB (London Transit stop #1817), London | 10:21 AM | 6:26 PM |
| 2800 | Fanshawe Pk. Rd. E., (London Transit stop #705), London | 10:31 AM | 6:36 PM |
Schedule 2: Return travel to Grand Bend, bus stops and departure times
| Bus Stop Number | Bus Stop Location | Trip 1 | Trip 2 |
| --- | --- | --- | --- |
| 2800 | Fanshawe Pk. Rd. E., (London Transit stop #705), London | 10:41 AM | 6:46 PM |
| 2650 | Main St. nr Lucan Health Centre, Lucan | 11:01 AM | 7:06 PM |
| 1250 | 148 Melbourne St. (at playground), Centralia | 11:10 AM | 7:15 PM |
| 2550 | Stephen Township Arena, Huron Park | 11:13 AM | 7:18 PM |
| 2450 | Main St. S. & Huron St. E., Exeter | 11:20 AM | 7:25 PM |
| 2350 | Main St. S. & Sanders St. E., Exeter | 11:22 AM | 7:27 PM |
| 2240 | McDonald's parking lot (NW corner), Exeter | 11:26 AM | 7:31 PM |
| 2150 | Dashwood Rd. near Arc Angels, Dashwood | 11:36 AM | 7:41 PM |
| 1900 | Welcome Centre (Crescent St.), Grand Bend | 11:46 AM | 7:51 PM |
| 2000 | Sobeys Plaza, Grand Bend | 11:48 AM | 7:53 PM |