Daily Service via Dashwood, Exeter, Huron Park, Centralia & Lucan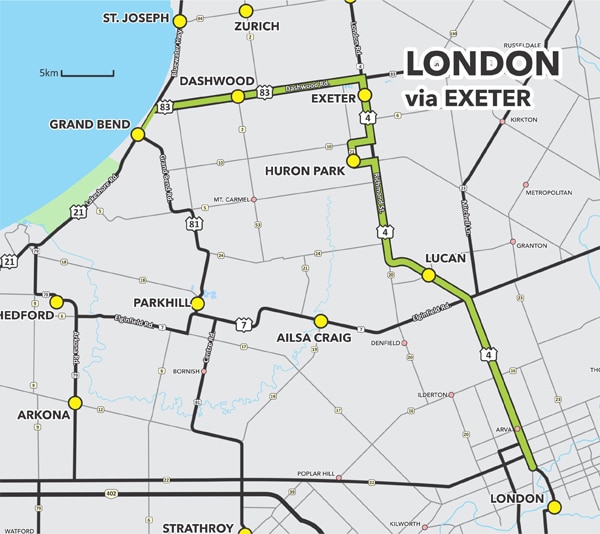 Daily service between Grand Bend and London daily and year-round, including statutory holidays, except for Christmas Day, New Year's Day and Good Friday. The approximate travel time is 1 hour and 20 minutes.
The bus runs every day, Monday to Sunday, from Grand Bend to London. There are two bus trips or runs daily. Download the Route 2 Grand Bend to London schedule (PDF).
IMPORTANT NOTE: December 22, 2022 –  We have removed one bus stop and added two new bus stops to this route. The Victoria Street & Main Street South bus stop in Exeter is no longer in service. A new bus stop has been added Walper Street & McConnell Street in the northwest corner of McDonald's parking lot. The second new bus stop has been added at 148 Melbourne Street in Centralia by the playground. Both stops become operational as of January 2, 2023. Although the schedules published here have been updated with the new stops, the arrival and departure times are estimates based on Google Maps. Over the next few weeks, our drivers will be testing out the route and it is expected arrival and departure times will be adjusted throughout the full route's schedule.
Schedule 1: Travelling to London, bus stops and departure times
| Bus Stop Number | Bus Stop Location | Trip 1 | Trip 2 |
| --- | --- | --- | --- |
| 2000 | Sobeys Plaza, Grand Bend | 9:10 AM | 5:15 PM |
| 2100 | Main St. E. & Ontario St. N., Grand Bend | 9:12 AM | 5:17 PM |
| 2200 | Dashwood Rd. (west of) Centre St., Dashwood | 9:21 AM | 5:26 PM |
| 2240 | McDonald's parking lot (NW corner), Exeter | 9:31 AM | 5:36 PM |
| 2400 | Main St. S. & Sanders St. W., Exeter | 9:35 AM | 5:40 PM |
| 2500 | Main St. S. & Huron St. W., Exeter | 9:37 AM | 5:42 PM |
| 2600 | Stephen Township Arena, Huron Park | 9:44 AM | 5:49 PM |
| 1250 | 148 Melbourne St. (at playground), Centralia | 9:47 AM | 5:52 PM |
| 2700 | Main St. @ Lucan Community Centre, Lucan | 9:56 AM | 6:01 PM |
| 2800 | Fanshawe Pk. Rd. E., (London Transit stop #705), London | 10:16 AM | 6:21 PM |
| 1817 | University Hospital SB (London Transit stop #1817), London | 10:21 AM | 6:26 PM |
| 2800 | Fanshawe Pk. Rd. E., (London Transit stop #705), London | 10:31 AM | 6:36 PM |
Schedule 2: Return travel to Grand Bend, bus stops and departure times
| Bus Stop Number | Bus Stop Location | Trip 1 | Trip 2 |
| --- | --- | --- | --- |
| 2800 | Fanshawe Pk. Rd. E., (London Transit stop #705), London | 10:41 AM | 6:46 PM |
| 2650 | Main St. nr Lucan Health Centre, Lucan | 11:01 AM | 7:06 PM |
| 1250 | 148 Melbourne St. (at playground), Centralia | 11:10 AM | 7:15 PM |
| 2550 | Stephen Township Arena, Huron Park | 11:13 AM | 7:18 PM |
| 2450 | Main St. S. & Huron St. E., Exeter | 11:20 AM | 7:25 PM |
| 2350 | Main St. S. & Sanders St. E., Exeter | 11:22 AM | 7:27 PM |
| 2240 | McDonald's parking lot (NW corner), Exeter | 11:26 AM | 7:31 PM |
| 2150 | Dashwood Rd. near Arc Angels, Dashwood | 11:36 AM | 7:41 PM |
| 1900 | Welcome Centre (Crescent St.), Grand Bend | 11:46 AM | 7:51 PM |
| 2000 | Sobeys Plaza, Grand Bend | 11:48 AM | 7:53 PM |